New High-Force DMA and Fatigue Instrument from TA Instruments
New Castle, Delaware, USA. October 10, 2017 – TA Instruments is pleased to introduce the new ElectroForce® DMA 3200. The DMA 3200 combines industry-leading fatigue and Dynamic Mechanical Analysis (DMA) technologies into a single mechanical test platform with unparalleled performance.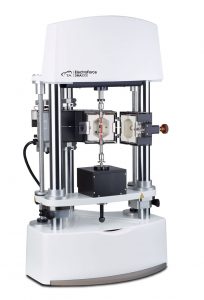 Mechanical properties are often considered the most important of all physical properties of materials. These are critical to understanding material and component applications in nearly every industry – including automotive, aerospace, medical devices, electronics, polymers, elastomers, composites, and many more. DMA quantifies the modulus and energy loss of materials over a wide range of temperatures, frequencies or strains. Fatigue testing provides insights on how and when materials, components, or devices fail when subjected to oscillating forces or stresses. These insights into material behavior ensure reliable product performance and prove out lifetime claims.
At the heart of the new DMA 3200 is the patented, frictionless ElectroForce motor. With 500N of force, it extends the range of DMA experiments to much larger samples and higher loads. It has high acceleration and is reliable enough to perform billions of fatigue cycles. It is the only motor in any mechanical testing system with a 10-year warranty.
Terry Kelly, President of TA Instruments said, "This new platform is so exciting because it combines the strengths of TA Instruments DMA technologies with the unique performance of the ElectroForce motor, acquired from Bose Corporation. No two instruments, from any combination of vendors, can match the DMA and fatigue performance of the new 3200."
The ElectroForce DMA 3200 system is available with multiple furnace options to accommodate standard and large sample sizes, multiple cooling options including refrigerated cooling, a wide range of clamps, and TRIOS software for the most flexible, intuitive, and comprehensive analysis of data.
For more information, contact Judy Stokes at electroforce@tainstruments.com or visit www.tainstruments.com.cn/dma-3200/
TA Instruments – a subsidiary of Waters Corporation (NYSE: WAT) – is the leading manufacturer of analytical instruments for thermal analysis, rheology, and microcalorimetry. The company is headquartered in New Castle, Delaware, USA, and has direct operations in 24 countries.