TGA 5500
Ultimate performance to meet the requirements of the most demanding applications.
Sales Promotions
The TGA 5500 is designed for the researcher that requires the highest level of performance and features in one package. Built to maximize temperature control and minimize drift, the TGA 5500 has less drift than any competitive TGA – even after they use post-test data manipulation! The TA patented IR furnace delivers the fastest heating and cooling rates available. The all new autosampler makes high productivity standard.
Features & Specifications

Instrument Features
TGA 55
TGA 550
TGA 5500
Low Mass IR Furnace

—

—

●

Hi-Res TGA

—

○

●

Modulated TGA

—

○

●

Auto-Stepwise TGA

●

●

●

DTA Signal

—

○

●

Auto-loader

●

●

—

25-Position Autosampler

—

○

●

Sealed Pan Punch

—

○

●

Color App-Style Touch Screen

●

●

●

Long-Life Wire Wound (Pt/Rh) Furnace

●

●

—

EGA Furnace Capable

○

○

●

Dual Input Gas-Delivery Manifold

●

●

●

Integrated Electromagnet

—

—

●

Temperature Calibration
Curie Point (ASTM E1582)

●

●

●

Temperature Calibration
Melting Point Standards

—

○

●

4-Gas Blending Module

—

○

○

Heated EGA Furnace Adapter

—

—

○

TGA/MS Operation

○

○

○

TGA/FTIR Operation

○

○

○
●Included ○Optional —Not Available
Instrument Specifications
TGA 55
TGA 550
TGA 5500
Temperature Range
Ambient to 1000 °C
Ambient to 1000 °C
Ambient to 1200 °C
Temperature Accuracy

±1 °C

±1 °C

±1 °C

Temperature Precision

±0.1 °C

±0.1 °C

±0.1 °C

Heating Rate (Linear)
0.1 to 100 °C/min
0.1 to 100 °C/min
0.1 to 500 °C/min
Heating Rate (Ballistic)
>600 °C/min

>600 °C/min

>1600 °C/min
Furnace Cooling (Forced air/N2)
1000 °C to 50 °C
in <12 min
1000 °C to 50 °C
in <12 min
1200 °C to 35 °C
in <10 min
Sample Weight Capacity

1000 mg

1000 mg

1000 mg

Dynamic Weighing Range

1000 mg

1000 mg

1000 mg

Weighing Precision

±0.01 %

±0.01 %

±0.01 %

Resolution

0.1 µg

0.1 µg

<0.1 µg

Weight Baseline Drift[1]
(Ambient to 1000 ˚C)

<25 µg

<25 µg

<10 µg

 Vacuum
50 µtorr
(EGA furnace)
50 µtorr
(EGA furnace)

50 µtorr
[1] No baseline subtractions
Tru-Mass Balance
Tru-Mass Balance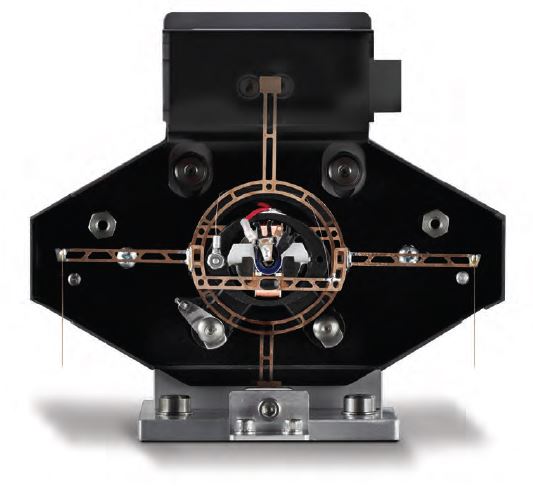 At the core of every new Discovery TGA is the proprietary Tru-Mass Balance. The Tru-Mass Balance system is Thermally isolated for high sensitivity in every laboratory environment, delivers highest Resolution to separate the components of the most challenging TGA samples, and Ultra low drift (Tru-Mass). Unlike competitive designs, the Discovery TGA delivers optimum performance without requiring baseline subtractions and other post-test manipulation required by competitors to make the data better. The result is an innovative new TGA with unrivaled performance in weight drift and sensitivity.
Balance Features and Benefits:
Ultra-low drift balance design ensures accurate detection of even the smallest weight changes.
High capacity (1 g) Tru-Mass balance with auto-ranging capability to ensure the best sensitivity no matter the size of the sample.
Free-hanging sample eliminates the heat sink prevalent in top-loading designs, for the most efficient heat transfer and gas flow around the sample.
Thermally isolated balance with low drift and high sensitivity to deliver the most accurate real time data.
The new proprietary balance system delivers the purest real-time weight data possible.
IR Furnace
IR Furnace
The TGA 5500 is the only system available offering patented infrared heating technology.
Features & Benefits
Ambient to 1200 °C
Linear controlled heating rates of 0.1 to 500 °C/min
Ballistic heating rates >1500 °C/min for the highest efficiency available
Fastest cooling for improved sample throughput
Low volume, vacuum tight, and quartz lined with heated outlet option for best evolved gas results
Quartz liner makes furnace easy to clean
Integrated electromagnet for automated verification and calibration using Curie point standards
Atmosphere Control
Atmosphere Control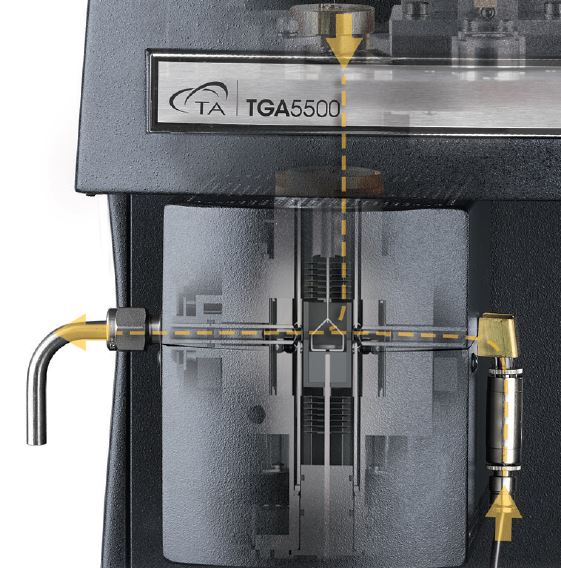 Discovery TGA's are designed with superior atmosphere control to meet the most demanding applications. Whether maintaining an inert atmosphere, switching to an oxidative purge, or maintaining a high vacuum the Discovery TGA is up to the task.
Atmosphere Control Features and Benefits:
Innovative Gas-Delivery manifold design eliminates potential leak points from tubing and hardware connections ensuring the most consistent, repeatable atmosphere.
Integrated software-controlled gas switching for experiments requiring dynamic or reactive atmospheres
New Gas blending module allows additional inputs of 4 gases with controlled gas switching and blending capability for flexible and demanding applications
Horizontal purge for best sample interactions
Vacuum tight to ensure inert, oxygen free atmospheres
Sealed pan option to maintain the atmosphere of the sample until the experiment starts
Reliable Automation
Reliable Automation
The NEW Discovery TGA features our new 25-position autosampler designed to be the most rugged and reliable system ever developed.
Autosampler Features and Benefits:
Compatible with all pan types and sizes for ultimate flexibility.
Sealed pan and pan punch option for effective isolation of air sensitive or volatile samples.
Scheduled and unattended calibrations and verifications give scientists more time for research.
Integrated electromagnet allows for unattended Curie point calibrations.
New TRIOS software makes it easier than ever to manage and run a large and diverse sample queue. The Design view and Running queue allow for quick and efficient autosampler programming.
"APP" Style Touch Screen
"APP" Style Touch Screen
Touch Screen Features and Benefits:
Ergonomic design for easy viewing and operation
Packed with functionality to simplify operation and enhance user experience. The apps-style touch screen includes:
Start/stop runs
Test and instrument status
Real-time signals
Real-time plot
Active method viewing
Advance method segments
Autosampler calibration
Loading/unloading and taring pans
System information
The app-style touch screen, powerful new TRIOS software, the robust and reliable autosampler with automated calibration and verification routines all work seamlessly to dramatically improve laboratory workflow and productivity.
ITS NEVER BEEN EASIER TO GET GREAT DATA!
Hi-Res TGA
Hi-Res TGA
In Hi-Res TGA, the heating rate is controlled by the decomposition rate of the sample. The Discovery TGA 5500 and 550 designs are ideal for these measurements with rapid response furnaces for precise temperature control, and sensitive thermobalances designed to quickly detect small weight changes.
Benefits of Hi-Res TGA include:
Separation of broad and overlapping weight losses
Increased productivity with better resolution
Rapid survey over wide temperature range with excellent resolution
Simple method set up
The figure above shows the Hi-Res TGA results for a polyurethane material by standard and Hi-Res TGA. The superior resolution provided by the Hi-Res technique is clearly evident in both the TGA weight loss and the first derivative (DTG) signals. The latter signal is especially useful in defining the onset and the end-set of the individual weight loss segments, as well as indicating subtle events that provide a "fingerprint" of the sample.
MTGA
MTGA
TA's patented MTGA* is another TA Instruments innovation that offers advantages for material decomposition studies. Developed from the proprietary heater control technology utilized by Hi-Res TGA and MDSC, MTGA produces model-free kinetic data. Activation energy can be calculated real-time and studied as a function of time, temperature, and conversion.
Benefits of MTGA include:
Increased productivity for studying kinetics
Model-free kinetic data
Can be combined with Hi-Res for better separation of overlapping weight losses
Direct measurement of activation energy
DTA signal
DTA signal
The DTA signal is a qualitative measurement of endothermic and exothermic reactions occurring in the TGA. This signal can also be used for temperature calibration by using melting point standards.
Discovery Mass Spec
Discovery Mass Spec
The Discovery MS is a benchtop quadrupole mass spectrometer, designed and optimized for  evolved gas analysis. It features industry-standard technology configured for the efficient transfer,  and rapid detection of offgas from the TGA furnace. Parts per billion (ppb) sensitivity is ensured with our state-of-the-art quadrupole detection system, including a closed ion source, a triple mass filter and a dual (Faraday and Secondary Electron Multiplier) detector system. This analyzer configuration is selected to optimize sensitivity and long-term stability performance.
Control of the experimental parameters and analysis of the mass spectral data is achieved through a user-friendly, recipe-driven software interface. Data collection can be triggered directly from the  TGA software, and the resulting MS  data can  be combined  with the corresponding TGA results for direct overlaying and comparison.
| | |
| --- | --- |
| Parameter | Performance |
| Mass range (amu) | 1-300 |
| Mass Resolution | >0.5 amu |
| Sensitivity | < 100 ppb (gas-dependent) |
| Ionization Source | Electron Ionization |
| Detector System | Dual (Faraday and Second Electron Multiplier) |
| Sample Pressure | 1 atm (nominal) |
| Data Collection Modes | Bargraph and Peak Jump |
| Scanning Speed | |
| Bargraph Mode | >50 amu/s |
| Peak Jump Mode | >64 channels/s |
| Transfer line Temperature | 300 °C (fixed) |
| Transfer line | 1.8 meters, flexible |
| Filaments | Dual, customer changeable |
| Capillary | Stainless Steel, changeable |
| Capillary size | I.D. = 0.22 mm |
| Inputs | Data collection controlled by TGA Trigger |
TGA Pans
TGA Pans
Pan Specifications
| | | | |
| --- | --- | --- | --- |
| Material | Size | Temperature Range | Notes |
| Platinum | 50µL100µL | Ambient to 1000°C | Robust, high performance, reusable pans |
| Ceramic | 100µL 250µL | Ambient to 1200°C | Reusable pans for higher temperatures |
| Aluminum | 80µL | Ambient to 600°C | One time use, can be sealed to prevent volatilization before experiment |