Discovery DSC 25P
High Pressure Differential Scanning Calorimeter
DSC 25P – Meeting your needs for Pressure DSC.
Discovery DSC 25P Pressure Differential Scanning Calorimeter:
The DSC 25P is a dedicated Pressure DSC module that provides heat flow measurements on pressure sensitive materials. The Discovery DSC 25P is used to study thermal transitions, chemical reactions and oxidative stability/ decomposition under vacuum, standard atmospheric pressure and elevated pressures. It measures a materials' heat flow in a variety of inert, oxidizing or reducing atmospheres. The DSC 25P has a pressure range of 1 Pa to 7 MPa (0.0001 to 1,000 psi) of which experiments can be performed under static or dynamic purge (constant volume or constant pressure).  The Discovery DSC 25P can operate under atmospheric and elevated pressures from ambient to 550 °C. The optional Quench Cooling Accessory for the FACS extends the operational temperature range of the DSC 25P down to -130°C.
Discovery Pressure DSC 25P Features and Benefits
Fusion CellTM with a pressure transducer, fixed pedestal mounted sensor, rugged silver furnace, Tzero thermocouple, and temperature controlled electronics. The DSC 25P Fusion Cell design ensures accurate temperature control and stable heat flow baseline performance
One Touch AwayTM "App" Style Touchscreen to easily monitor real time signals such as pressure, temperature and time
Modulated DSC (MDSC®) under pressure conditions for separation of complex thermal events and monitoring of changes in specific heat capacity
TRIOS for versatile software control and data analysis
The industries ONLY 5 year  cell and furnace warranty
The Discovery DSC 25P can be used these ASTM and other standards:
E537 – Thermal Stability of Chemicals by Differential Scanning Calorimetry
E 1782 – Determining Vapor Pressure by Thermal Analysis
D1858 – Determining Oxidation Induction Time of Hydrocarbons by DSC
D2009 – Oxidation Onset Temperature of Hydrocarbons by DSC
D5885 – Oxidative Induction Time of Polyolefin GeoSynthetics by High Pressure DSC
D6186 – Oxidation Induction Time of Lubricating Oils by Pressure DSC
D8117 – Oxidative Induction Time of Polyolefin Geosynthetics by DSC
Features
| | |
| --- | --- |
| Instrument Features | DSC 25P |
| Fusion Cell™ | ● |
| T1 Heat Flow | ● |
| MDSC® | ● |
| Standard Heat Flow | ● |
| Tzero Heat Flow | ─ |
| Color App-Style Touch Screen | ● |
| Quench Cooling Accessory (-130°C) | ○ |
| |   |
● Included, ○ Optional, ─ Not Available
Specifications
| | |
| --- | --- |
| | DSC 25P |
| Pressure Range | Up to 7MPa or 1000PSI |
| Temperature Range (standard) | RT to 550°C |
| Temperature Range with cooling accessory | -130°C to 550°C |
| Purge Gas | N2, Air, O2, He, Ar, CO2, CO, H2 |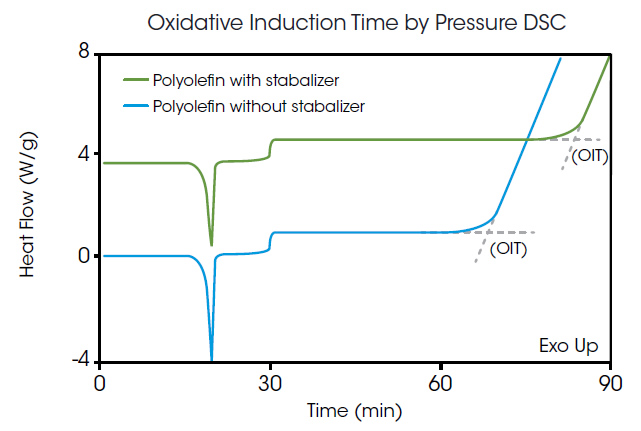 Oxidative induction time analysis (OIT,oxidative stability) has found widespread use in the as a quality control and fingerprinting tool. Oxidative stability is important since the useful lifetime of a particular product is often related to its resistance to oxidative decomposition. The OIT measurement is an accelerated thermal-aging test and the data generated provides a qualitative assessment of the material tested. It is determined by the thermo-analytical measurement of the time interval to the onset of exothermic oxidation of a material at a specified temperature in an aerobic atmosphere. The onset of oxidation is signaled by an abrupt increase in the sample's evolved heat.
Fusion Cell™
Fusion Cell ™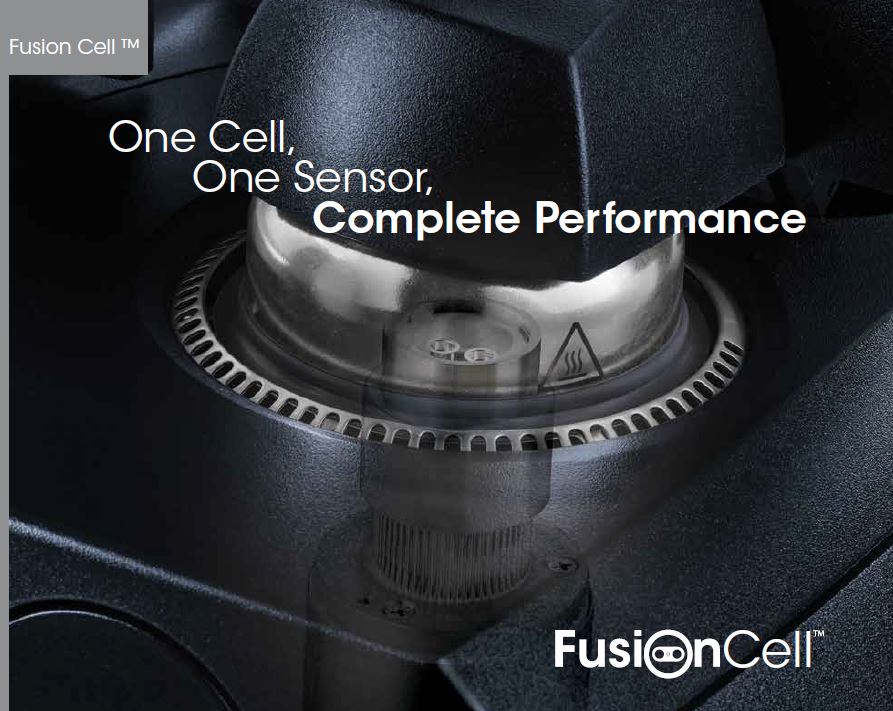 At the core of every Discovery DSC is the NEW TA Fusion Cell™, which incorporates design concepts that "FUSE" together the best features of the world's bestselling Q-Series and first generation Discovery DSC, patented Tzero® technology, and new proprietary manufacturing processes. Unlike competitive designs, the Discovery DSC delivers optimum performance with a single sensor, eliminating the need to exchange sensors to optimize a specific performance aspect. The result is an innovative new DSC with unrivaled performance in baseline flatness, sensitivity, resolution, and reproducibility.

Features and Benefits:
Patented Tzero technology measures cell resistance and capacitance characteristics and delivers fundamentally more accurate heat flow measurement, incomparable baseline performance and eliminates baseline corrections prevalent in all other competitive offerings.
Fixed pedestal-mounted sensor provides a stable configuration with a well-defined and reproducible heat flow path.
Rugged uniblock Silver furnace with long-life windings ensures superior temperature control and uniformity.
Unique cooling rods and ring design produce superior cooling performance over a wide temperature range, higher cooling rates, and more responsive heating to cooling operation.
Temperature-controlled electronics ensure the utmost in stability and repeatability of measured signals.
Innovative Gas-Delivery manifold provides gas switching and consistent, repeatable atmosphere.
The new Fusion cell delivers the purest real-time heat flow data possible. Additionally, lengthy pre and post-test manipulations, such as baseline subtractions or de-smearing routines by required competitive designs are never necessary.
Modulated DSC
Modulated DSC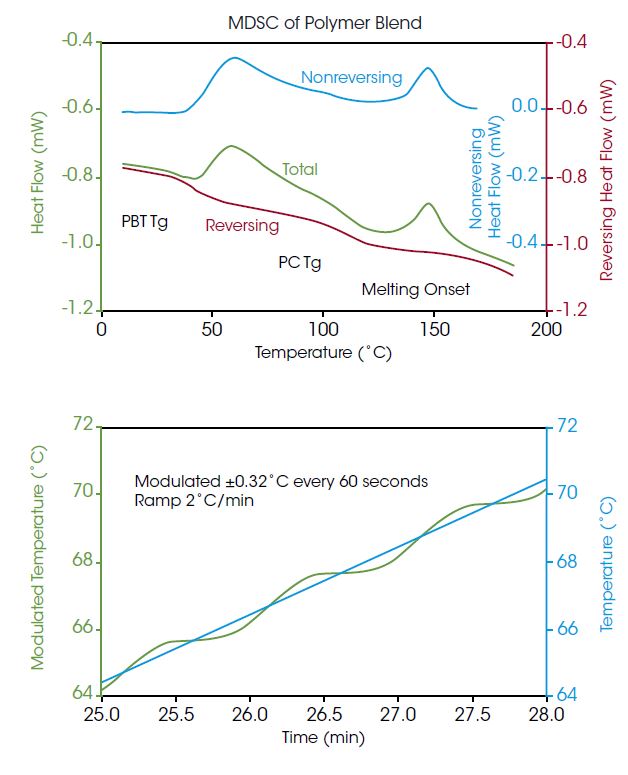 In patented TA MDSC®*, a sinusoidal temperature oscillation is overlaid on the traditional linear ramp. The net effect is that heat flow can be measured simultaneously with, and independently of, changes in heat capacity. The Total Heat Flow signal contains the sum of all thermal transitions, just as in standard DSC. The Reversing Heat Flow contains glass transition and melting transitions, while the Nonreversing Heat Flow contains kinetic events like curing, volatilization, melting, and decomposition. TA invented MDSC and understands it like no other company. Modulated DSC is standard on EVERY Discovery DSC model.
Benefits of MDSC include:
Separation of complex and overlapping transitions into more easily interpreted components.
Increased sensitivity for detecting weak transitions.
Increased resolution without loss of sensitivity.
More accurate measurement of polymer crystallinity.
Direct measurement of heat capacity.
* U.S. Patent No. 6,561,692
"APP" Style Touch Screen
"APP" Style Touch Screen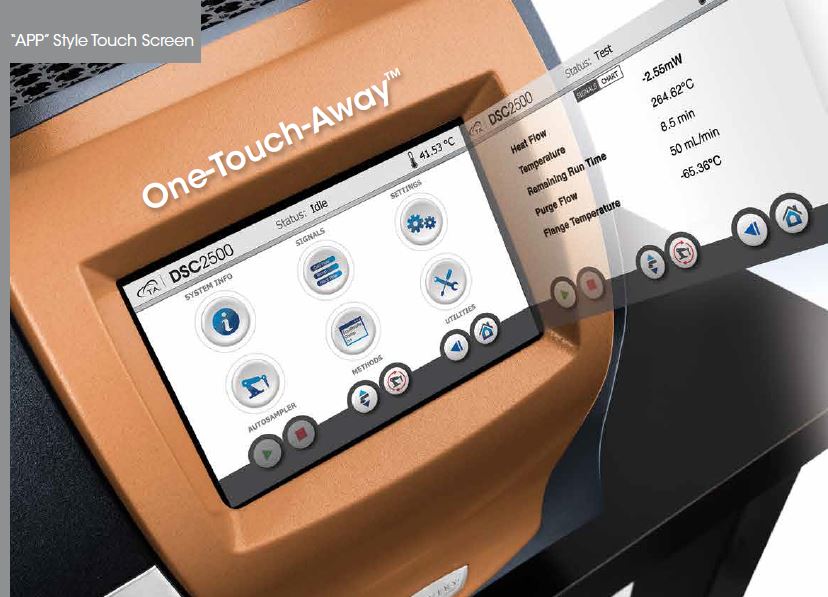 All Discovery DSC's feature the innovative "app-style" touch screen. This makes operation easier than ever, with enhanced One-Touch-Away™ functionality. As easy as operating a tablet or smart phone!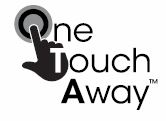 Touch Screen Features and Benefits:
Ergonomic design for easy viewing and operation
Packed with functionality to simplify operation and enhance user experience.
The apps-style touch screen includes:
Start stop runs
Test and instrument status
Real-time signals
Real-time plot
Active method viewing
Advance method segments
Autosampler calibration
Loading/unloading pans
System information
The app-style touch screen, powerful new TRIOS software, the robust and reliable
autosampler with automated calibration and verification routines all work seamlessly to dramatically improve laboratory workflow and productivity.
Quench Cooling Accessory for the FACS
Quench Cooling Accessory for the FACS
The Quench Cooling Accessory (QCA) for the FACS is a manually operated cooling accessory whose primary use is with the FACS (Finned Air Cooling System). It is used to return the FACS to ambient conditions between experiments for improved turn-around time and productivity. It can also be used with the Pressure DSC, the Discovery DSC 25P, to quench cool a sample to a sub-ambient temperature prior to heating. The QCA for FACS extends the temperature range of the DSC 25P down to -130°C. The QCA reservoir is easily filled with ice, water, liquid nitrogen, dry ice, or other cooling media.