VTI-SA+
Designed for high performance sorption analysis of materials under controlled conditions of temperature and humidity.
Sales Promotions
The VTI-SA+ Vapor Sorption Analyzer is a continuous vapor flow sorption instrument for obtaining precision water and organic vapor isotherms at temperatures ranging from 5°C to 150°C at ambient pressure. The VTI-SA+. Analyzer embodies the features of VTI's original SGA design with almost two decades of field-proven performance: the isothermal aluminum block construction, the three isolated thermal zones and chilled-mirror dew point analyzer for primary humidity measurements… all to provide excellent temperature and RH stability.
| | |
| --- | --- |
| Balance Capacity | 750 mg / 5g |
| Dynamic Range | 100 mg / 500 mg |
| Weighing Accuracy | ± 0.1% |
| Weighing Precision | ±0.01% |
| Sensitivity | 0.1μg/ 0.5µg |
| Signal Resolution | 0.01μg / 0.05μg |
| Temperature Control | Peltier Elements, Resistance Heaters |
| Experimental Temperature Range | 5 to 150°C |
| Maximum Drying Temperature |  150°C |
| Isothermal Stability | ±0.1°C |
| Accuracy | ±1% RH |
| Humidity Control | Closed Loop, Dew Point Analyzer |
| Organic Solvent Capability | Optional |
| Camera / Raman | Optional |
mouse over the 
 icons for details.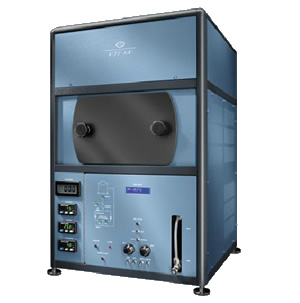 Symmetrical Micro-balance
Temperature controlled, symmetric null balance design minimizes drift.
750mg or 5g capacity
Exceptional stability and sensitivity
Sample Chamber
High conductivity aluminium block eliminates thermal gradients
Precise peltier temperature control (+/- 0.1C)
Open access architecture simplifies sample loading
Precision Humidity Measurements
Chilled mirror dew point analyzer provides industry leading control
Temperature controlled, easily exchangable solvent reservoirs
Compatible with water and a wide range of organic solvents
Camera/Raman Probe Accessory
2,.5x Camera/Microscope
Dedicated Raman probe
Field Installable
Organic Vapor Sorption
Organic Vapor Sorption
Standard compatibility with a wide range of organic solvents.
Versatility
Versatility
Perform standard sorption tests or specialized tests such as diffusion measurements.
Sensitivity/Resolution
Sensitivity/Resolution
The VTI-SA+ can accurately resolve weight changes over narrow increments of RH.